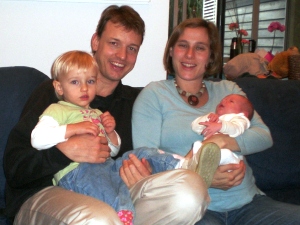 2004 – I finish off my Master in Business Administration. I also spend a year working with an inventor who has developed a safety device for the trucking industry.
2005 – Next I set up my own company (Passionate Management) to coach natural health practitioners on how to market their practices.
And most importantly, our daughters (Marlalena and Amelie) join our family. This is a big focus of my life and I am thankful I can take the time to spend with them, seeing them develop into their own personalities.
We move into a house, put in solar hotwater, repaint with chemical-free paint, free our garden from noxious weeds, drive the most economical cars in their class (at first a Toyota Echo, then a week before Amelie's arrival we get a Toyota Corolla Wagon), buy organic, support our community and have short showers.
The months and years pass and suddenly it is the end of 2007 and I wonder whether I have come any closer to my dream of 5 years ago: supporting sustainable businesses in a way that makes a difference in the world.
The answer is simple: I have not.
That is what 2008 is dedicated to. This is what this blog is dedicated to. I want to find ways how sustainability permeates all of our society, where it is not a questions any more whether you are sustainable or not, it is just the natural and only option.