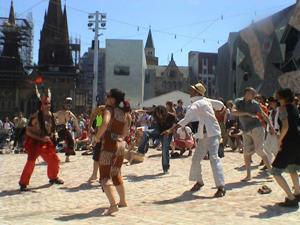 I returned to Germany from South Africa, got married, migrated to Australia and ended up in Melbourne where my wife studied for a Master in Physiotherapy.
My past was event production, my future was going to be sustainability, so I started looking around Melbourne what there was for me to do.
I think it was on the second day after I had the Internet set up at our home that I stumbled upon the Sustainable Living Festival.
It was about 3 weeks away and sounded just like everything I had wanted. The perfect combination of my past skills and future interest. So I offered my help.
I remember walking through the park up to their office, thinking: "I am going to be really strict about wanting to earn money, not just volunteering. They should understand that. After all sustainability is about profit and not just feel-good."
Naturally, they convinced me to volunteer, pretty much everyone did (except for a few hired professionals who had all been appointed already). We had 50,000 visitors over the 3 days of the event.
I also attended the debriefing session after the festival and decided to offer my services as an event producer for the next festival a year later.
Luke Taylor, the director was ecstatic. The board of the not-for-profit organisation who was putting on the event had to be convinced first that it would be financially viable. There was no money left over, so we had to put in the time to find the money for the next event. If we did not succeed, there would have been no pay.