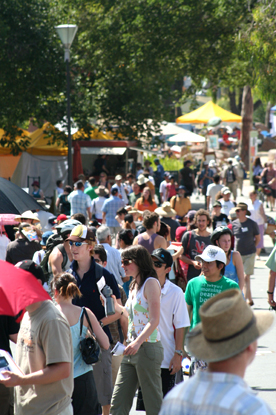 The Sustainable Living Festival turns into an annual event for the first time. It attracts over 50 volunteers in responsible positions during preparation.
160 exhibitors show their sustainable solutions to 120,000 visitors. Our core team of 8 full-timers, who all took the risk of potentially not being paid all get their due.
The last 12 months have been an amazing ride through joy and frustration.
Some of the sponsoring companies were absolutely amazing at supporting this huge volunteer effort, others had to be dragged to the party.
I realise that it is a lot more comfortable to have a budget that funds all the event plans from the start, rather than having to adjust plans and budget all the time to accommodate necessities.
I also realise that a strong vision and sense of purpose greatly enhances any team. Bringing so many volunteers together, letting them follow their own dreams while weaving it together into a whole was an amazing feat. Luke Taylor held that vision.
Brigitte House had the ability to smooth out any ruffled feathers that I created through unpopular financial decisions. Together we achieved a huge step towards an event about sustainability that was also run using sustainable concepts.
People and planet were happy and a profit was left over to fund other parts of the Sustainable Living Foundation.  A success in all areas.
My wife had finished her Master, so we decided to follow our dream even further and move north to the sunny Sunshine Coast in Queensland were it is warm, even in winter.